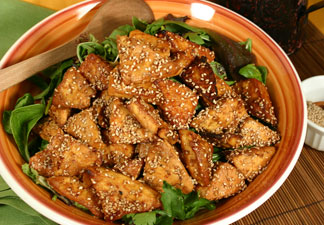 Products: Baked Tofu
As rich in taste as it is nutrition WestSoy Baked Tofu is pre-cooked and perfectly seasoned with your favorite International flavors. Served cold on sandwiches or salads or warmed for pasta, soup or stir-fry, it provides great taste and texture to vegetarian meals.
Soy based.
A good source of protein: 9 grams per serving.
Pre-seasoned with International flavors.
Used as you would a chicken breast.